ARTMILE MURAL EXHIBITION AT UNESCO Headquater

Japan Art Mile and Permanent Delegation of Japan to UNESCO held ARTMILE MURAL EXHIBITION at UNESCO Headquarter on 12th to 16th December, 2016. The murals are outcomes of the "International Intercultural Mural Exchange (IIME)" project, which is supported by the Ministry of Foreign Affairs and the Ministry of Education, Culture, Sports, Science and Technology in Japan and encouraged by UNESCO as GAP on ESD.
ARTMILE MURAL EXHIBITION
----------------------------------------------------------
Date: 12th to 16th December, 2016
Venue: UNESCO Headquarter
            7 place de Fontenoy 75007 Paris, Corridor X-XI, B1
Organiser: Japan Art Mile
Co-organiser: Permanent Delegation of Japan to UNESCO
 ----------------------------------------------------------
10 murals in the exhibition were created by Japanese school students and their partner school students in France, Indonesia, New Zealand, Pakistan, Philippines, Thailand in 2015.
The project is not only for a painting project, but the real purpose is international collaborative learning. Murals are outcomes of the students' interactive learning by using ICT. Through the collaboration, the students broaden their mind, understand and respect diverse cultures, build friendship with their partners and furthermore they develop confidence in collaborating with different people in the world.
OPENING CEREMONY
The Artmile Mural Exhibition started with an opening ceremony organized by Permanent Delegation of Japan on December 12th, 2016.
<Speakers>
1. Ms. Kuni Sato, Ambassador of Japan
2. Ms. Atsuko Shiwaku, Founder of Japan Art Mile
3. Ms. Choi Soo Hyang, Director, Division for Teaching, Learning and
                                   Content, UNESCO
4. Mr. Tubagus Ahmad Fauzi Soelaiman, Ambassador of Indonesia,
                                   Alternate Permanent Delegate
5. Mr. Pramote Duang-Im, Deputy Permanent Delegate
6. Ms. Emma Nichols, Second Secretary, New Zealand Embassy in Paris,
                                   Acting Permanent Delegate to UNESCO
Ms. Shiwaku, founder of Japan Art Mile, addressed "Now is an age of "unpredictable". Surprising changes are happening here and there in the world. Who could predict UK would leave EU .......... Who could predict a few years ago this rapid increase of refugees and their immigration problems, or terrorist attacks in various places in the world?
Children live in this unpredictable world. They will be facing new problems in the future. Then they will have to solve the problems of their age with the same generation in the world.It is children who will create the future.
Not conflict, but dialogue!  Not isolation, but collaboration!
Artmile project is a "formative experience" for children to collaborate with people in the world. We wish they will open the door of a sustainable and peaceful world."
COCKTAIL PARTY
The reception was prospered by many ambassadors, secretariat executive, directors of UNESCO and others.
In the cocktail party Sushi and Sake were served. Sake "47 QUATRE SEPT" (named in French!) was brought by JAM staff from their hometown, Japan.
Ms. Irina Bokova, Director-General of UNESCO
It was really honor that Ms. Bokova came to look at the murals.
Ms. Shiwaku, founder of JAM, was impressed by her words, "Artmile project is effective in ESD and also in GCED."
Certainly it is very good for Education for Sustainable Development and for Global Citizenship Education.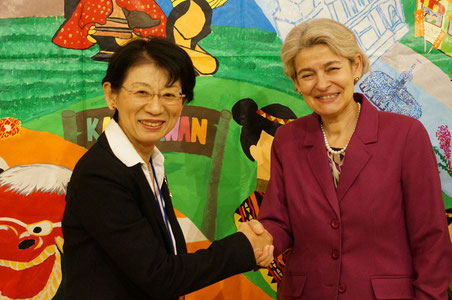 Mr. Michael Worbs, President of the Executive Board
He payed a big attention to the Artmile project IIME and got interested in involving Germany schools in the project.
Visitors from French schools, participants in IIME
The principal of Groupe Scolaire Carlepont and teachers of Collège Saint Paul-Rezé came to look at their murals displayed in the exhibition.